CUSTOM MADE WOODEN DISPLAYS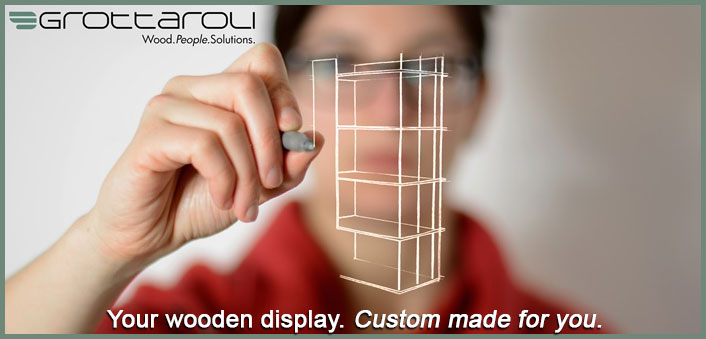 Grottaroli, thanks to the extreme flexibility and versatility, manufactures custom made wooden displays, entirely personalized and exclusive.
The wooden displays are for points of sale, show rooms, exhibitions, and any other locations, to show your product and make it more attractive, highlighting the visibility and increasing the value.
We can offer standard displays and custom made ones, based on specific need of the client.
The high personalization and exclusivity of the display, can highlight the shown product attributing great visibility and accentuating the value.
Our displays are easily adaptable in every location and sector, highlighting precious, simple, common or unique products, such as wine, oil, pasta or typical products and also goods more complex, sophisticate, elaborate such as cosmetic, perfumed or herbal products. The display encloses the product, finding the optimal position and exaltation.
Our custom made displays are manufactured to satisfy your needs. Starting from an analytic study of the product and the position of the display, we can support you on choosing materials, dimensions and forms. We create your display. We show you some examples of displays for pasta, wine, jam and also for objects, cosmetics and household products.
Manufactured in birch plywood, fir finger-jointed woods, lacquered woods, these materials were selected for their features of strength and versatility.
Displays for objects, cosmetics and household products
Displays for bakery, pasta and wines